About Invisalign
There are some very awkward images that come to mind as soon as you hear the term "orthodontics". Yes, there are a number of orthodontic patients who may fit this description but now there are advanced alternatives to the customary metal braces – the Invisalign clear aligners. As the name implies, Invisalign clear aligners are composed of invisible polyurethane plastic. These aren't bonded or cemented to teeth like before, instead, these are removable for a number of functions like flossing, brushing, eating, and social occasions. Sounds fantastic, doesn't it?
If you are looking for the best Invisalign in Waterloo, Ontario you have come to the right place. There are countless benefits of Invisalign such as these are crucial for the improvement of oral hygiene, a discreet look, better dietary options, more comfort, and teeth-grinding protection. This technology was proposed long back and has been evolving since then. It can take care of multiple malocclusions that were once considered to be quite complicated. Like, all others this treatment option also has some drawbacks but there is nothing you cannot take care of.
Understanding The Working Of Invisalign
Specialized computer software is used to design a plan for moving your teeth from their current positions into the best possible alignment. This movement will be broken down into perhaps several dozen stages. For each stage, the Invisalign company will manufacture two plastic mouth "trays" or "aligners," one to fit over your top teeth and one for the bottom. You will wear this first set of trays for two weeks, for a minimum of 20 hours per day. You will then move on to the next set of aligners in your series to accomplish the next stage of gradual movement. You will keep doing this until your teeth are correctly aligned.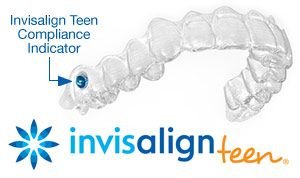 In the past several years, two features have been added to make Invisalign a more appropriate orthodontic treatment method for teenagers. Special "eruption tabs" hold the appropriate amount of space open for molars that have not fully grown in. Invisalign for teens also comes with "compliance indicators" built into the aligner material, which fade with wear. This allows parents, dentists, and the teens themselves, to make sure the trays are being worn as prescribed. Treatment with Invisalign can only be successful if this is the case.

Want straighter teeth with Invisalign from Eastbridge Dental Care?
Call our Waterloo, Ontario dental office today at (519) 746-3435
For more information or to book an appointment!