Patient Forms, Map and Directions to Waterloo Office
From the primary day you join our office workplace, we'll cater to your dental needs. As a part of your initial visit with us, you'll fill out a comprehensive medical and dental history. These forms are vital as they assist us to see the course of your treatment. We've to understand regarding allergies, sensitivity to anesthetics, long term medications, etc.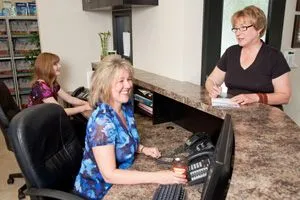 On your first visit we will conduct a comprehensive examination and a periodontal evaluation. Full mouth x-rays are necessary in order to fully examine you, as it gives us a picture of the tooth structure above and below the gum line, as well as enables us to evaluate the bone structure surrounding your teeth.
After gathering all of the necessary information, your treatment will be reviewed with you. This allows you and your dentist to develop a personalized plan for your oral care. We will work with you so that your oral care plan will be convenient for your lifestyle and busy schedule. We look forward to helping you maintain a happy, healthy smile.
Mission Statement
Our practice is working together to realize a shared vision of uncompromising excellence in dentistry.
To fulfill this mission, we are committed to:
Listening to those we are privileged to serve.
Earn the trust and respect of patients, profession and community.
Exceed your expectations.
Ensure a creative, challenging and compassionate professional environment.
Strive for continuous improvement at all levels.
Patient Forms
In order to view or print these forms you will need Adobe Acrobat Reader installed. Click here to download it:
---
What To Expect
Being well-prepared for your appointment will ensure that the doctor has all of the needed information to provide the best possible care for you. It also will help relieve any unnecessary anxiety you may be feeling. Educate yourself on your symptoms by reviewing the content on this Web site. Also, take some time to review our staff page and familiarize yourself with the doctors. We look forward to your first visit.